The LAWineFest brings wines and brews from around the world to your doorstep in a fun, relaxed environment. (Yes, we're the WineFest. But turns out even wine lovers need a break to sip something else new and noteworthy too.)  The Fest also serves up boutiques to browse, artisan merchandise to buy and more! http://www.lawinefest.com
Where?
We'll be at "The Pike Outlets" Address: 95 S Pine Ave, Long Beach, CA 90802
Why?
To explore the exciting world of wine – along with some seriously artisan brews – in a great setting that is all about you finding what you like. Forget the rules! Even better, your good time is a good deed. The 14th Annual LAWineFest is proud to benefit The Long Beach Public Library Foundation.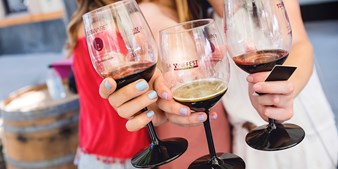 What's Included?
You get a glass to keep, which means unlimited wine and beer sampling. (For those new to wine tasting, these are tasting-sized pours so you get to try a lot of different wines safely.) Water, coffee, and sample nibbles. All the fascinating main-stage presentations. A DJ spinning to add to the vibe. Please note that food and boutique products are for sale once inside the event.
When?
Saturday – June 1, 2019 2-6pm
Sunday – June 2, 2019 1-5pm
Most wineries will be selling from their websites, and many will be offering special deals just for Fest attendees. Wines are not legally allowed to be sold on-premise, and security guards will confiscate any bottles being walked out of the Fest. Sorry – those are the laws.
Save up to 55% on tickets through Travelzoo https://www.travelzoo.com/